You may think that Santa Claus is an unlikely role model for your business given that (whisper it) he may not exist. However, Forbes Magazine once described him as the "best CEO ever", so I'm certain that there is plenty the small business owner can learn from a chubby guy in a Red and White suit.
Outsource as and When You Need To
Fixed costs such as business rates, rent, even staff wages can place a burden on a small business, especially in its formative stages when profit is something that is still some way in the future.
That's where outsourcing certain functions of your business can be a great benefit. You see all those guys in the Santa costumes at the malls, Christmas parties and in the shops? Do you think they are all directly employed by the big guy himself? Of course not. These are all outsourced self-employed contractors.
Things like marketing and bookkeeping can easily be outsourced (unless you are a marketing company or an accountancy firm). This will enable you to keep your fixed costs down and help your business turn a profit more quickly.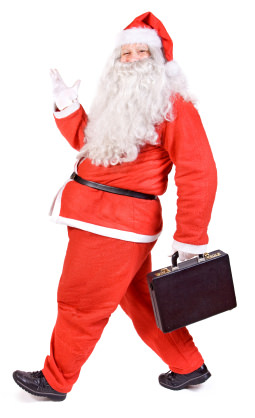 As A Manager, You Can Spread Yourself Too Thin
Like most small business owners, you probably find that pressures on your time actually increase as your business starts to grow.
It is inevitable that you – as the business owner – will be the person who cares the most about your company. That doesn't mean, however, that you have to do everything or even that you have to manage every tiny decision yourself. That way burnout lies.
Focus on your core competencies and trust in the judgement of your staff. After all, you probably interviewed and hired them yourself.
Take a look at Santa himself. He realised early on in the development of the Claus Corporation that in order to get all the presents made and delivered on time, he would need to stop making them himself and hire Elves to do the job for him.
Santa was aware that, as the face of his own brand, his time would be better spent being jolly, wearing a red suit, making lists and checking them twice. Oh, and managing a team of flying Reindeer, some Elves and, of course, ensuring that the logistics of the business are in place for the big day.
In other words, if you know that other people can do something better or more efficiently than you then let them. You – and your business – won't regret it.
Focus On What Your Business Is Really About
Even the smallest of businesses should spend some time deciding what their role is in the marketplace: specifically what service you are providing and how you differentiate yourself from your competitors.
It is altogether too easy to fall into the temptation of following exactly what your competitors are doing in the mistaken belief that this will lead to your own success.
Santa has always kept a strong, tight focus on the service he provides. It would have been very easy to create a Santa branded Reindeer Farm or Santa Airways but the guy in red knows what his business is about. So should you. It is this that will be the key to your success and keep those all-important customers coming back time and again.
Plan To Succeed
I'm sure you all know that tired old cliché 'If you fail to plan, then plan to fail'. But it's true.
For Father Christmas, planning is everything. Indeed, he has one night to deliver Xmas gifts to all the children around the world. And, you can be sure he has refined the process over the years he has been doing it.
You should be creating goals for your business and calculating how best you might achieve them. After all, if Santa can aim to deliver several million presents over the course of a few hours, then you can plan the growth of your business over the next 12-18 months.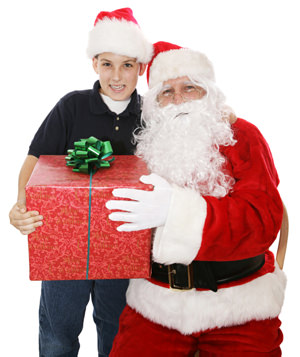 The Customer Is Key
Among Santa's target market, he has pretty much the best word of mouth you could ever hope for. Kids talk about him to each other; to their parents and to anyone who will listen for months before Christmas.
Santa's commitment to his customers is so great that he doesn't actually charge for his service. He just wants to reward children who have been good and he strives to make sure they get exactly what they want for Christmas.
While it might be a little foolish not to charge your customers, focusing on meeting their needs and providing a reliable, high quality service is something that every business should keep at the forefront of their minds at all times.
And To End...
While Santa is, let's be honest, a monopoly in the Christmas Eve Gift Delivery niche; what can be learnt from the big guy can apply to businesses of all sizes.
One word of warning before I sign off: I would strongly suggest you avoid the phrase 'Ho, ho, ho' at all times. It may work for Santa Claus, but it's likely to see you on a charge of sexual harassment!