Recommend A Friend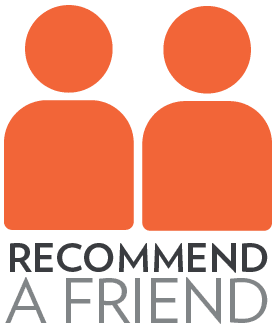 Earn £2 for every friend you recommend!
This scheme is to say 'thank you' to all the fabulous customers who shop on our site and who refer all their friends to us too. Our recommend a friend scheme is open to everyone who has registered an account with us and bought from our website.
HOW IT WORKS
Step.1
SHARE
your unique
code with family
and friends
Step.2
£2 OFF
for friends and
family when they
use the code
Step.3
£2 DISCOUNT
automatically
added to your
account
There are so many ways to share your code.
Via email, on your blog or even post it on social media!
Any Questions?
What's the code I give my friends?
When you log into your account, click on the first bullet point called 'Recommend A Friend For Money Off'. You'll see your code and it's prefixed FF.
Who can use this code?
Anyone who's not already a Find Me A Gift customer. Feel free to forward your code onto your Friends, family, loved ones, colleagues etc.
What exactly do they get?
They get a £2 discount on their first online order - but they must spend at least £2 on a gift to get the money o. When their order is despatched, you get £2 in your account too.
Can I post the code to my website/blog/facebook?
Of course you can, as long as they know they have to be new to Find Me A Gift to use it.
What exactly do I get?
You get £2 added automatically to your account when your friend's order is despatched. If they order something in stock, this will usually be within one working day. You can accrue discounts - and to use your discount online, just select 'Yes' when checking out. Unfortunately, you can't use discounts with any offers or loyalty points.