2021 Father's Day Gifts & UK Trends During COVID
29th April 2021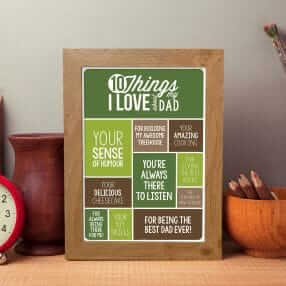 Father's Day will be here before we know it and here in the UK, it is the day before "normal" life begins again with all lockdown restrictions being lifted on Monday 21st June. It's an exciting, nerve-wracking time for everyone, but dads just miss out having the best Father's Day of their lives after a year of distancing from family members and loved ones. It's a slight kick in the teeth, but rules are rules. That being said, we wanted to find out what the British population's Father's Day plans are this year, whether they are planning to break the rules, waiting until another day to celebrate the special occasion, or dismissing it as another event stolen by COVID. Plus, we provide Father's Day gifts and safe ways to celebrate with that this year, saving Father's Day for dads across the UK.
How is the UK Celebrating Father's Day 2021? Our Survey Results
We surveyed 2,004 Brits to find out how they plan to celebrate Father's Day after a year of lockdown restrictions. The findings are certainly varied with many people wanting to create special memories with their dads and father figures in 2021.
Spending time together tops the Father's Day wish list
The most important thing this Father's Day is spending time together with 24% of Brits who took part in the survey agreeing with this sentiment. When it came to genders, 29% of women said making memories with their dad is the most important part of Father's Day whilst only 18% of men agreed. In comparison, 16% of women and 13% of men plan to spend more money on Fathers Day gifts this year. It is clear that people want to create memories with their families rather than spend money. It could be said that this year financially has not been the kindest due to lockdowns, redundancies and job losses.
Gen Z leading the way for spending more money and breaking restrictions
That being said, 29% of Gen Z plan to spend more money on Father's Day gifts this year, compared to 9% of 45-54 year-olds; Gen Z are also twice as likely to break lockdown restrictions to see their dad with 16% of 16-24 year olds agreeing to the statement in comparison to 8% of 45-54 year olds. Plenty of Gen Zs are students who have been away from home for a substantial amount of time, perhaps even the first time in their lives. Whilst university experiences are incredible for many, it is certain the pandemic has created a stressful experience for students across the UK. Therefore, it could be said that young people want to splurge their money and are more willing to break restrictions to make up for lost time with family who they have missed. The top activity under current restrictions for Gen Zs is to order a takeaway whilst people aged 25 and over want to meet in a garden. Let's hope it's sunny!
Zoom is over
Zoom has finally had its day with only 1 in 20 people saying they will meet virtually. Who wants to have a phone screen separating them from their loved ones when they can meet up outside (assuming families live close to each other), especially after what seems like forever of staying indoors? Many people want to make up for lost time with their nearest and dearest. The top 5 overall activities are as follows:
Have a family meal indoors
Meet indoors
Meet in a restaurant
Go to the pub
Visit other family members
2 in 5 have no plans for Father's Day
However, a substantial number of people are undecided how they will spend Father's Day this year. 2 in 5 people haven't made any Father's Day plans for 2021. Like many of the other plans made in the UK, people have had to change things last minute due to a change in the restrictions, leading to disappointment for everyone involved.
How to Celebrate Father's Day Safely
If you want to explore Father's Day ideas to celebrate under restrictions, there are plenty of ways to do so. The obvious is to meet in gardens or other outside areas which is what plenty of people are already planning on doing. You could turn that garden meeting into an afternoon of BBQ fun. How about heading down to the beach if there's one where you live (don't go breaking the rules to find one!) with a portable BBQ. Grab some tennis rackets or football and get your blood pumping with some sporty fun; great if dad has a competitive streak!
Don't forget you can go to the pub under the current restrictions. You just have to sit outside. Bring a jacket and make sure you check into the venue when you arrive and enjoy a couple of beers come rain or shine. If there's any way to make Father's Day even better, it is to add the element of surprise (even if he claims to hate them). He'll be so shocked that anything you organise will make it the best Father's Day yet no matter what the restrictions are. As long as you stick to the safety guidance, you can make sure dad has a wonderful day that will be remembered for years to come.
Find Me a Gift's Picks for Father's Day Gifts 2021
Plans for Father's Day may have taken a backseat, but that doesn't mean you can't celebrate dad's special day with a Father's Day gift he will love. Find Me a Gift provides unforgettable experiences with the ability to make incredible memories (in the near future) as well as sentimental gifts you can personalise with your heartfelt words or an inside joke the two of you share. The gifting fun doesn't stop there as we have funny Father's Day gifts alongside novelty presents for dads, and plenty more gift ideas for him, which will make his day as hilarious as he is (even if you have to launch the gift in his direction in the garden).
Experiences Dad can enjoy
We can see from our survey that people are excited to finally get together with plenty of Brits opting to spend Father's Day face to face in gardens and at places of natural beauty. Now that restrictions are finally lifting, families can make new memories to cherish after a very long time apart. What better way to celebrate dad's day with an experience he can look forward to!
Wall Art personalised by you
Funny Fathers Day gifts for dad
In conclusion, it has been a tough year for the entire planet. People across the globe still feel uncertain about making plans in the near future and the UK is no different. Spending time with dad is the number one priority for Brits across the country. Whilst it still might not be in the way that you would hope for, we have shown there are plenty of ways to show dad you care with Father's Day gifts he can treasure, experiences he can look forward to and safe activities to bring dad a little bit of joy this Father's Day. You might think that you just pick a Father's Day gift and go, but actually there are so many reasons why we want the find the perfect gift for dad this Father's Day. Even without a pandemic, we want to show dad just how much we care, reinforce that special relationship, and give him another reason to smile. Our sister site, Activity Superstore, has an entire article surrounding the psychology of gift giving. It explains the inner thoughts of finding gifts, making sure dad has the best Father's Day yet.
By Faye Smith