Who Still Celebrates Valentine's Day?
26th January 2017

As a gift company, Valentine's Day is our second biggest shopping peak of the year after Christmas, but it is still a way off the festive period, with not much sign of growing. We decided to investigate our customers' shopping plans and their thoughts about Valentine's Day, in an attempt to gage whether Valentine's Day is becoming less popular or is still a loved tradition by all. We thought we'd share our findings with you, combined with some rather interesting statistics from our 2016 Valentine's Day sales peak.
85% of surveyed customers celebrate Valentine's Day, with half of the single people we surveyed celebrating it with friends - partying!
£10-£30 is the most popular price range when purchasing Valentine's Day gifts, and our average basket value for last year supports this at £25.
Bearing in mind 89% of people surveyed were female…we found that 35% would buy their partners something "useful" but most of them want to receive a trip away from their other half! We think £10-£30 is a stretch for a trip away though ladies!
What our customers would like to receive…

Naughtily, 9% are planning on buying a gift for someone else - not their partner! We won't tell!
A third of the married customers we surveyed, do not celebrate Valentine's Day! 11% used to celebrate but don't anymore, the reasons they don't have candle-lit dinners on this night whilst showering each other in gifts, romance and kisses? - Well apparently they stem mainly from kids, and money!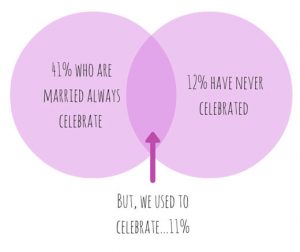 February 8th is the most popular day to order a gift online.
In 2016 we received a huge peak of orders on February 8th, and there's always a definite surge on the 8th, 9th running up to the 10th before it tails off. Who are all these last minute gift buyers? Well, it is stereotypical but our data proves that it is the men! Although there were around two thirds more women than men browsed the Find Me a Gift website during Valentine's Day peak, men were much more likely to buy something once they were on the site. In addition to this, men on average spent less time on the site than women, and were much more likely to buy on their first visit. Does this mean that men are much more likely than women to leave it until the last minute and buy the first thing they see?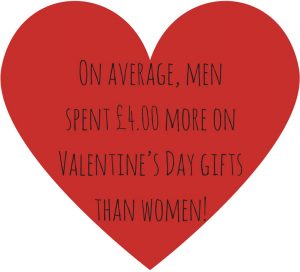 The largest portion of shoppers for Valentine's gifts are between 25-34 years old.
Finally, age groups; are youngsters celebrating Valentine's Day - or is it "uncool"?! Is it just the middle aged generation who are sticking by traditions on this romantic day? It appears not, the largest portion of shoppers during our Valentine's peak last year were 25-34 year olds, the younger age group is slightly further behind and it seems to tail off with the older age groups. Possibly linking with the figure that 11% of married couples no longer celebrating Valentine's Day due to money and children!
By Will King