Top Picks for Teachers
12th July 2018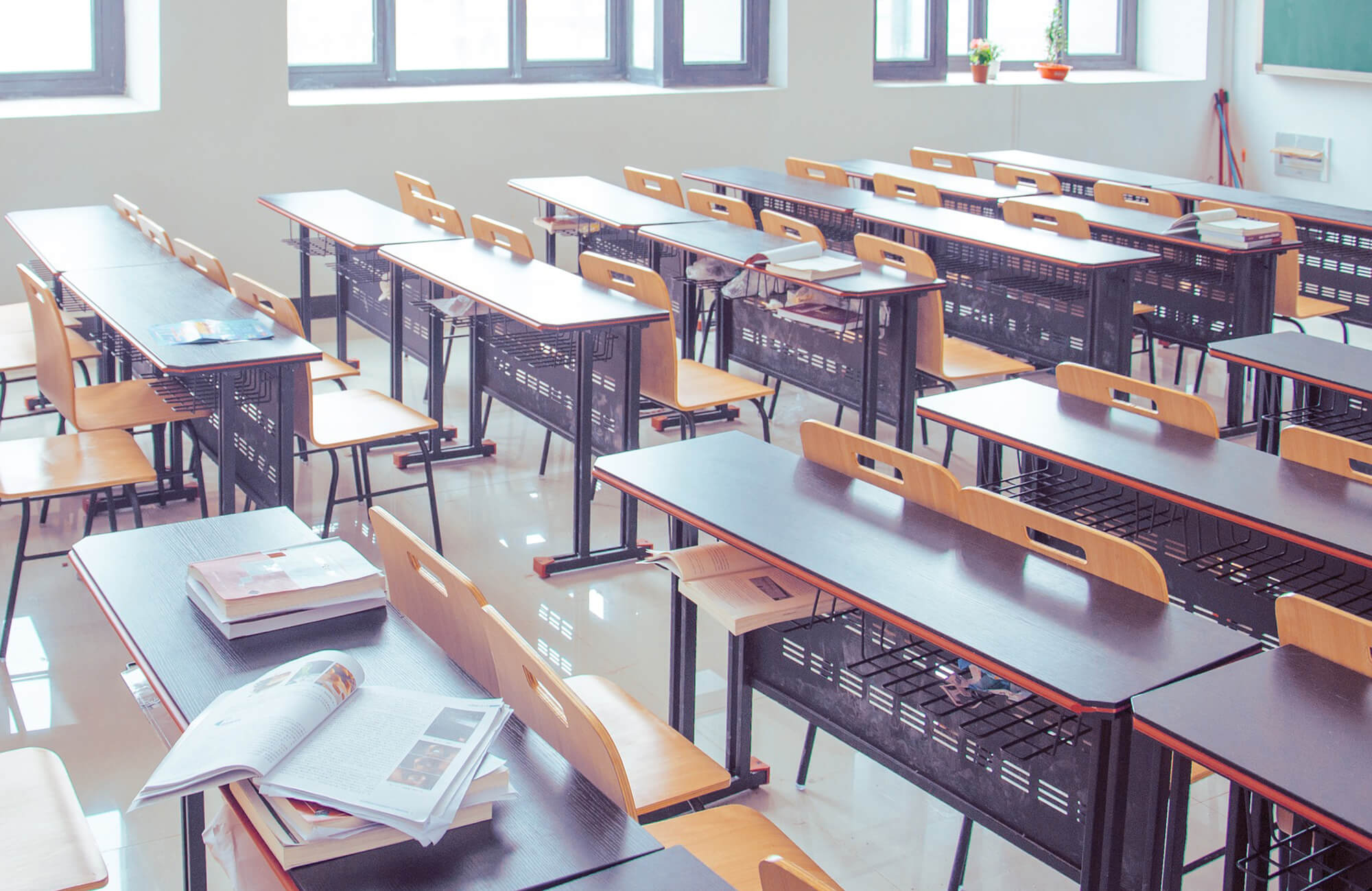 From dealing with mischievous youngsters to hormonal teens, being a teacher certainly is challenging! With the school year coming to a close, now is the perfect time to thank your teacher for what an amazing job they do teaching your little ones (and for putting up with them!).
They do a wonderful job at guiding children through their ever-important education. Right from their ABC's to their crucial exam preparation, they're hugely influential in your child's life. This amount of hard work deserves a special way of saying thank you. Whether your child has just finished their first year at school or they're about to leave and enter the big wide world, why not show your teacher the sincerest of gratitude with a truly special gift? If you're looking for the perfect way to show your appreciation, we've put together a selection of great gift ideas to thank your teacher for all the amazing things they do.
Sweet & Sentimental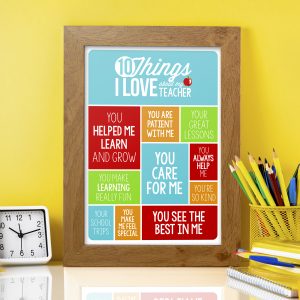 10 Things I Love About my Teacher Poster
What do you love about your teacher? Show them with this lovely personalised print! This wonderful poster is the perfect way to express your gratitude. From their amazing patience to their inspiring lessons, this colourful poster lets you list the 10 things you love about your amazing teacher. You can also get it framed, so it's perfect for hanging in their classroom for a sincere reminder of all their hard work.
10 Things I Love About My Teacher Poster £12.99
Handy & Useful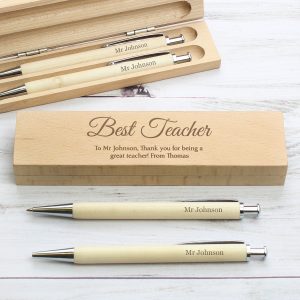 Personalised Wooden Pen & Pencil Gift Set
Why not say a huge thank you with this lovely personalised pen and pencil set? This wooden box set is a lovely way to write a message of appreciation. The box can be personalised with any message of your choice. The pens can also be personalised with your teacher's name, making these pens unique and ideal for the classroom. Pens and pencils are teaching essentials and this wonderful personalised set is sure to be hugely appreciated.
Personalised Wooden Pen & Pencil Gift Set £14.99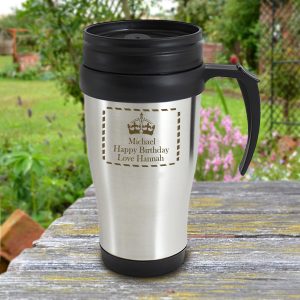 Personalised Travel Mug
This fabulous personalised travel mug will help fuel your teacher through the day with a portable supply of tea and coffee. You can personalise it to say 'Best Teacher' with their name, or any message you want. This superb mug will never leave your teachers sight! Its thermal interior will keep their drinks hotter or colder for longer, so their drinks will last throughout their lessons, and avoid any unfortunate spillages with its fabulous sliding sip cover.
Personalised Travel Mug £14.99
Novelty & Unique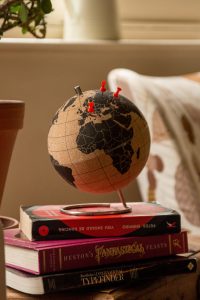 Small Cork Globe
A right on pin-point way of saying thank you! This wonderful cork globe will look fantastic on your teacher's desk. It's a fun yet stylish classroom accessory that your teacher can use to point to all the countries they've visited, or would like to go to, as well as being perfect for a little geography lesson! Whether they're your knowledgeable geography teacher or your geeky maths tutor, this globe is a great way of saying thank you for changing your educational world.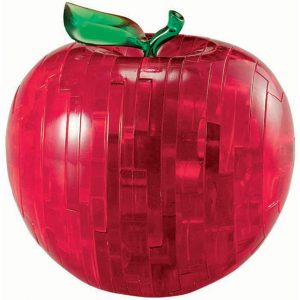 3D Jigsaw Puzzle- Red Apple
Still puzzled for ideas? This juicy red apple will brighten up your teacher's desk, taking a puzzle to a whole new dimension. This 44-piece 3D puzzle is an excellent way to challenge your teacher and keep their mind active. Your teacher will love trying to solve this fabulous novelty apple puzzle! After all, an apple a day keeps the doctor away! Plus, once it's completed it makes the perfect desk accessory. This is sure to intrigue your teacher and fascinate their mind as much as they do yours.
3D Jigsaw Puzzle- Red Apple £7.99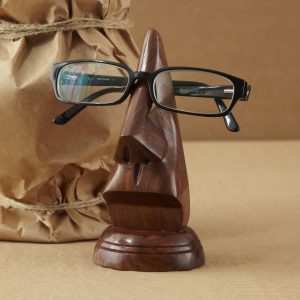 Wooden Nose Eyeglasses Holder
Is your teacher always misplacing their glasses? Or perhaps they always leave them lying around? Prevent this from happening with this fabulous wooden glasses holder. This incredibly useful novelty glasses holder will sit just perfectly on your teacher's desk, so they'll always have a safe place to put their trusty glasses. This wooden nose also makes a great classroom ornament, so whether it's being used or not, it still makes a great decoration.
Wooden Nose Eyeglasses Holder £11.99
Delightful & Delicious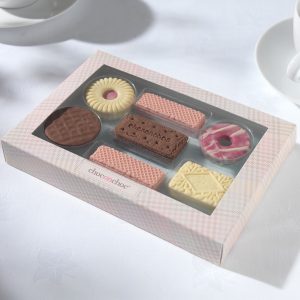 Biscuit Chocolates
Treat your teacher to a lovely selection of chocolates that look just like biscuits! This is no ordinary biscuit box. They look like biscuits, feel like biscuits, but don't taste like biscuits. No, they taste even better…they're chocolate! These incredibly designed chocolates will fascinate your teacher, and if you're lucky enough they may even share them with you. These handmade Belgium chocolates are the perfect way to thank your teacher for all their hard work. They're unbelievably bis-cute!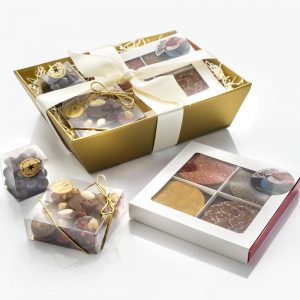 Gourmet Chocolate Cafe Hamper
What better way to thank your teacher than with an indulgent chocolate hamper filled with luxurious chocolate treats? This fabulous hamper is packed full of chocolatey goodness to spoil your teacher for helping you through your education. Not only is this hamper filled with irresistible chocolate, but it also comes with some amazing coffee beans, so your teacher can enjoy a cup of their favourite coffee whilst indulging in some well-deserved chocolate treats.
Gourmet Chocolate Hamper £19.99
Lovely & Pampering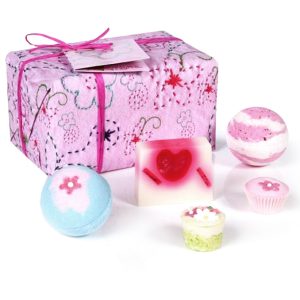 Bomb Cosmetics Pretty in Pink Gift Set
A purely pampering gift set to help your teacher unwind and de-stress in a tub of luxurious bath bombs that are bursting with essential oils. This fabulous Pretty in Pink gift set includes 5 handmade indulgent bath treats. This is a great way of treating your teacher to something special and thank them for their dedicated hard work. This lovely gift comes beautifully gift wrapped making it the perfect present that your teacher is sure to love!
Bomb Cosmetics Pretty in Pink Gift Set £12.99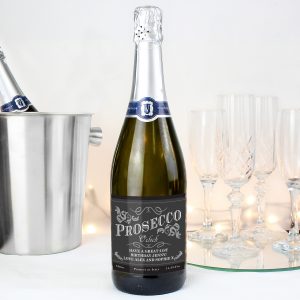 Personalised Prosecco
Congratulate your teacher for making it through the school year in one piece with a lovely bottle of bubbly! When the final bell rings for the start of the summer break, your teacher can sit back and relax with a glass of this special Prosecco. Let your teacher know just how much you appreciate them by adding a personal message on the bottle, adding a sweet sentiment to an already fabulous bottle of joy.
Going to school isn't just difficult for those learning, but it's hard work for those doing the teaching too. Everyone likes to know that they're doing a great job and what better way to show your gratitude than with a special gift? Give something back for all the amazing things they give to us!
By Will King