Fun & Romantic Christmas Eve Traditions for Couples
3rd October 2022

It's that feeling of joy, warmth, and nostalgia. Christmas is a very special time of year, and if you're spending it with your partner, you'll want to make sure it's extra special.
Here are some fun and romantic ideas for Christmas traditions to do with your partner!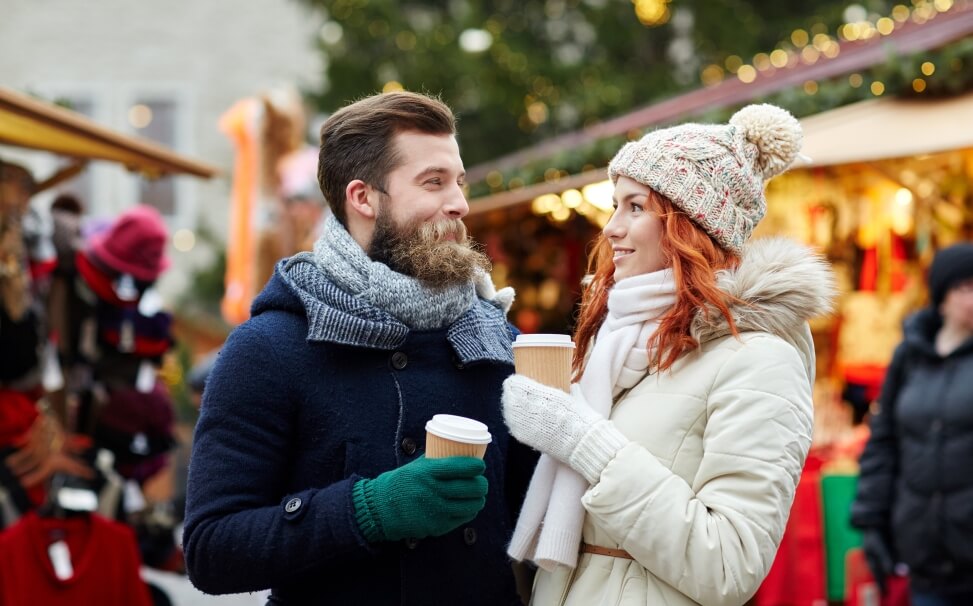 19 unique & romantic Christmas Eve traditions
1. Cosy up with your favourite Christmas movie
Spend Christmas with your family watching your favourite Christmas movie. Some great options include:
A Christmas Story
Elf
The Holiday
Home Alone (or Home Alone 2!)
The Polar Express
Dr. Seuss' How the Grinch Stole Christmas
A Charlie Brown Christmas
Or get in the holiday spirit by hosting a movie night with your friends or family. Invite them over for some hot chocolate and popcorn and spend the night watching your favourite Christmassy movies.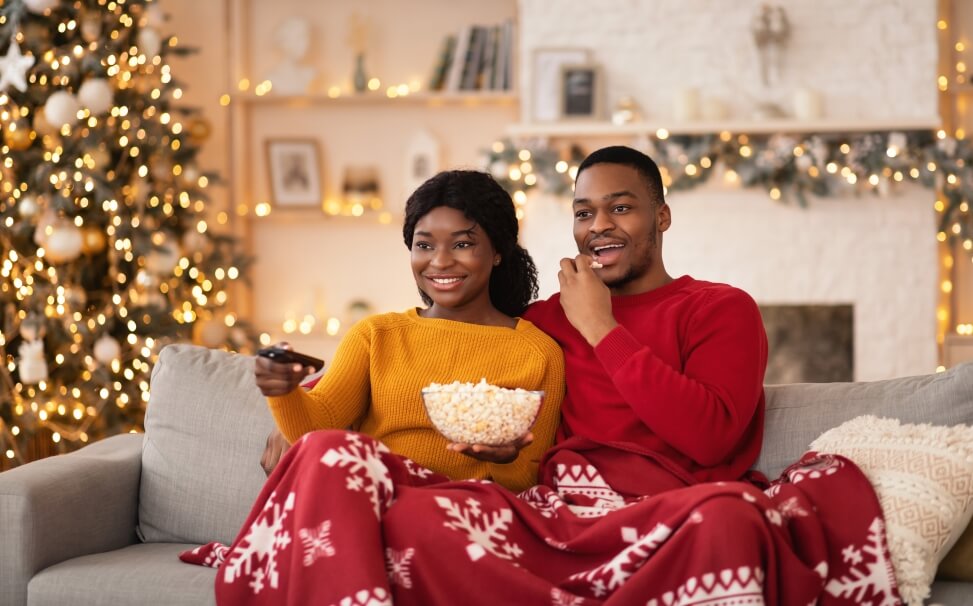 2. See a live Christmas show or panto!
Nothing gets you more into the Christmas spirit quite like attending a festive concert or pantomime. Check out your local event listings to see what's playing in your area. Some great options include:
A Christmas Story
The Nutcracker
A Christmas Carol
The Messiah
3. Make your own hot cocoa bar
One cosy way to spend your Christmas Eve is by creating a hot cocoa bar! Have different types of cocoa, lots of fun toppings like whipped cream, sprinkles, mini marshmallows, and even some festive cookies to top off your drinks.
For the ultimate hot chocolate try our vegan hot choc shot gift set, or our Make Your Own Hot Chocolate Bombs.
Curl up on the sofa in front of the Christmas tree and enjoy your time together while sipping on some delicious hot cocoa.
Adding a little Irish cream to your drinks makes it extra special for adults only!
4. Mix and measure your own Christmas cocktails (or mulled wine!)
Here are a few classic recipes to get you started:
Passion fruit martini - 2 ripe passion fruits (halved), 60ml vanilla vodka, 30ml passoa, 1 tbsp lime juice, 1 tbsp sugar syrup, prosecco to serve
Sloe gin fizz - 50ml sloe gin, 25ml lemon juice, 2 tsp sugar syrup, ice, sparkling water, lemon slice, fresh or frozen blackberry
Festive snowball - 10-15ml lime juice or lime cordial (optional), 50ml advocaat, 50ml sparkling lemonade, ice, 1 maraschino cherry (for garnish)
If you need a helping hand, this rose gold cocktail shaker with recipes is the perfect way to tune up your mixology skills!
Or if you'd rather just drink them - the MAP Lab Cocktail Kit has a choice of 7 delicious cocktails for you and your partner to enjoy.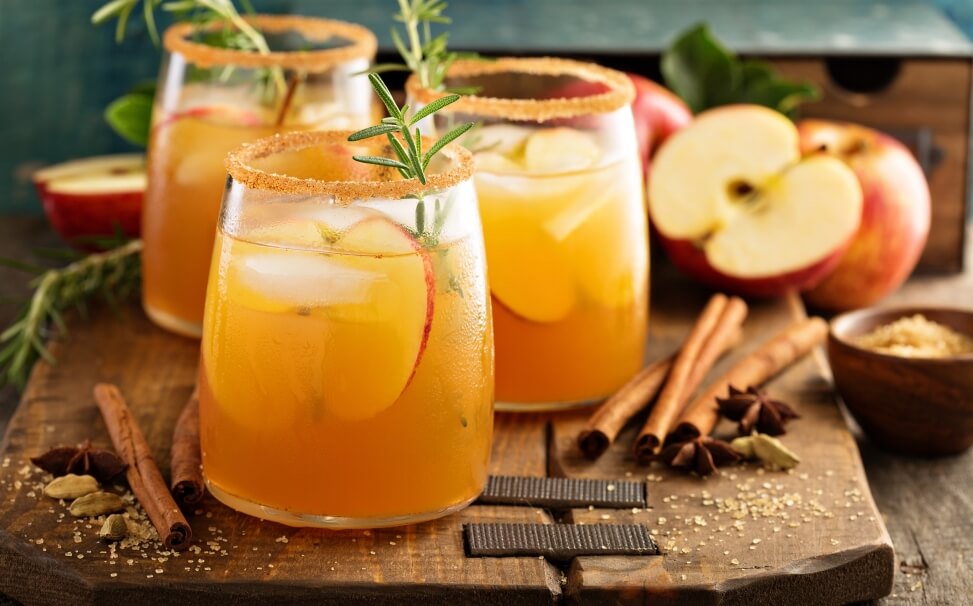 5. Make your own candles together
Candlelight is always romantic, and what could be more special than making your own candles together? This creative activity is also a great way to relax and de-stress before the holiday rush.
There are many ways to make candles - you can use essential oils to make scented candles or add food colouring to create colourful ones.
You can even add a personal touch by decorating the outside of the candles with ribbons or stamped images.
If you need a little help, try an online candle making workshop!
6. Go to a local animal shelter
This activity is great for animal lovers. Spread some cheer by spending some time at your local animal shelter playing and cuddling the animals. They'll love the attention, and you'll get to feel the warmth of their furry little bodies.
7. Make fireside s'mores and share ghost stories
Smores are not just for summertime camping. You can make them indoors by the fireplace. This activity is great for couples who want quality time together.
After you make your smores, take turns telling each other ghost stories. If you don't have ghost stories, you can always tell each other scary movie plots or make up your own stories.
8. Host a group games night (with Christmas music!)
Not every date night needs to involve just you and your sweetheart--group dates can be just as much fun.
While you can play your old stand-bys, you could change things up by including some Christmas board games, like this Christmas Monopoly or Christmas Trivia, or create your own episode of Taskmaster with theTaskmaster board game!
9. Escape on a romantic Christmas getaway
There are many places to go all out for the holidays. Here are a few ideas to get you started:
10. Give Each Other Massages
This is a great way to relax and bond with your partner. You can give each other full-body massages or focus on specific areas that are feeling tense.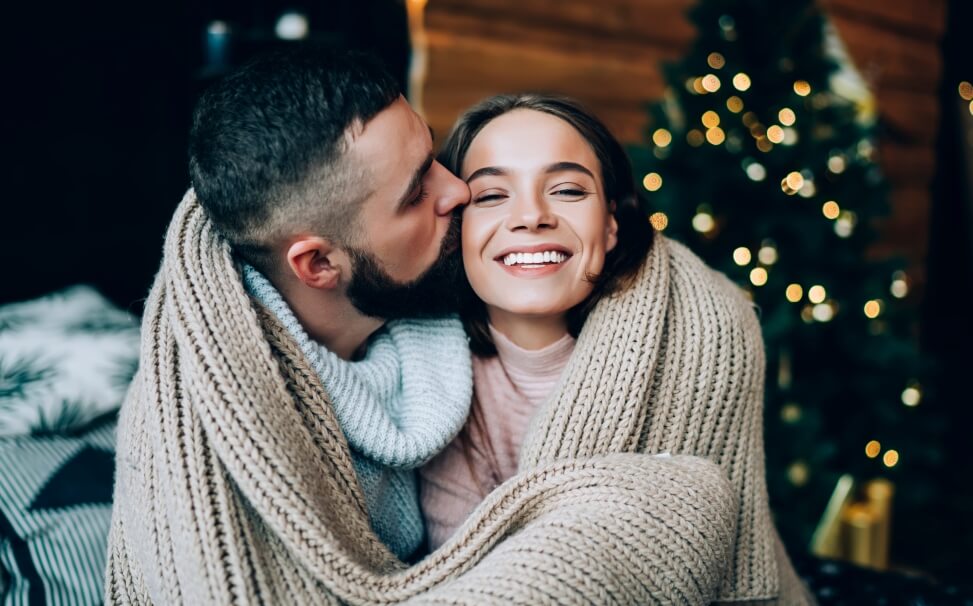 11. Create the ultimate Christmas playlist!
This activity is great for couples who love music. Make a list of your favourite Christmas songs, and then sing them together or blast them out while you get the Christmas dinner prep underway!
12. Go Christmas carolling together
Once you've got your Christmas playlist together, why not spread some cheer by going Christmas carolling together? Bundle up in some cosy winter gear and head out into the neighbourhood.
You can even bring some hot chocolate or cookies to share with your friends and neighbours. Christmas carolling is a great way to get into the holiday spirit, and it's also a great way to connect with your community.
13. Pick out a Christmas tree and hang decorations
This might be one for a couple of weeks before Christmas day - but one of the best parts of the holiday season is choosing a Christmas tree together.
Head to a tree farm and pick the perfect one, ensuring it fits well in your stand at home. Once you have it set up, take some time to string lights around it and start hanging your decorations!
14. Bake some Christmas treats together
What's Christmas without some tasty treats? Get into the kitchen and bake some delicious Christmas cookies or cakes together. This is a great activity for couples who love to cook (or eat!).
Not sure where to start? Find a recipe for one of the following:
Christmas Chocolate Chip Cookies
Gingerbread Men
Christmas Cake
Pavlova
Mince Pies
15. Kiss under the Mistletoe
This one is a Christmas classic! No matter where you are if you see some mistletoe hanging overhead, make sure to steal a kiss from your partner.
16. Look through old family Christmas photos
This is a great way to take a trip down memory lane together. Pull out old family albums or dig up some old box of photos from Christmases past. You can even look through old home videos!
17. Camp out in front of the fireplace or the garden
>Grab some blankets and pillows and make yourself a cosy little nest in front of the fireplace. Settle in under the stars with some hot chocolate or tea and enjoy each other's company.
18. Get refreshed with a wintry indoor picnic
You can set up a picnic blanket in front of the fireplace or your living room and enjoy all your favourite picnic foods indoors!
19. Decorate the house together
Get into the Christmas spirit by decorating your home together! Put up some lights, hang some mistletoe, and get creative with your holiday decorations making your home feel extra festive and cosy.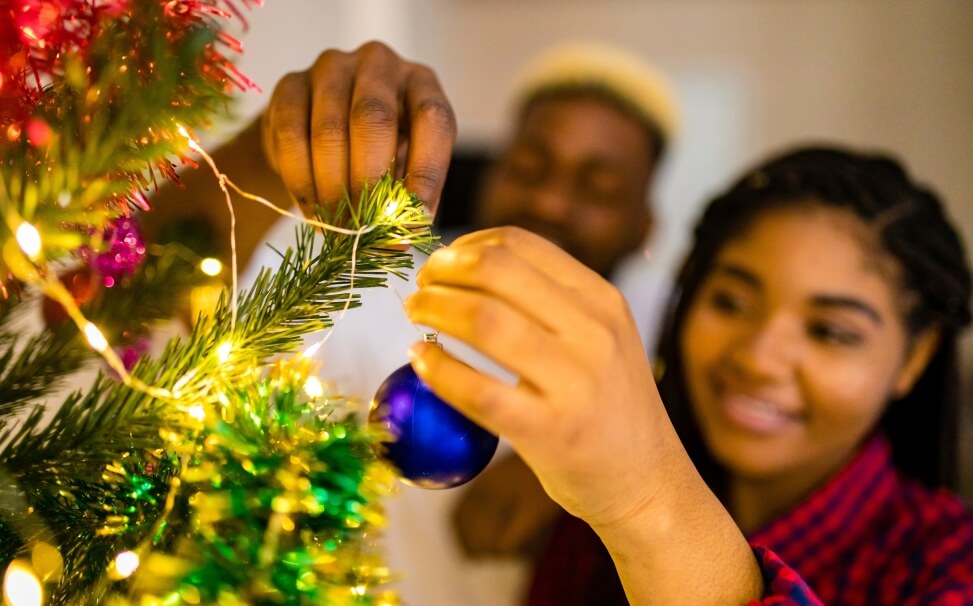 22 fun & exciting Christmas Eve traditions for couples
1. Open a gift early
Open a sneaky early gift with your partner on Christmas Eve and share a private moment together before Christmas day.
Whether it's a love hamper, a new book, or a hand-knitted scarf, receiving a gift is always more fun when you can open it together. Or since you're opening a gift together away from the family, why not make it a cheeky one?
2. Hit the ice rink!
Nothing says "romance" like ice skating hand-in-hand. It's the perfect activity and a great way to get some exercise (and fresh air) together.
Some UK cities open temporary outdoor ice rinks, so have a look if there's one nearby!
3. Go sledging on a snowy (or perhaps just wet!) hill
Sledging is a classic Christmas activity that's just as fun for adults as it is for kids. And what could be more romantic than hurtling down a hill together, screaming with laughter all the way?
If you don't have a sled, you can always just make one out of an old dustbin lid. Just be sure to pack a picnic lunch to enjoy at the bottom of the hill!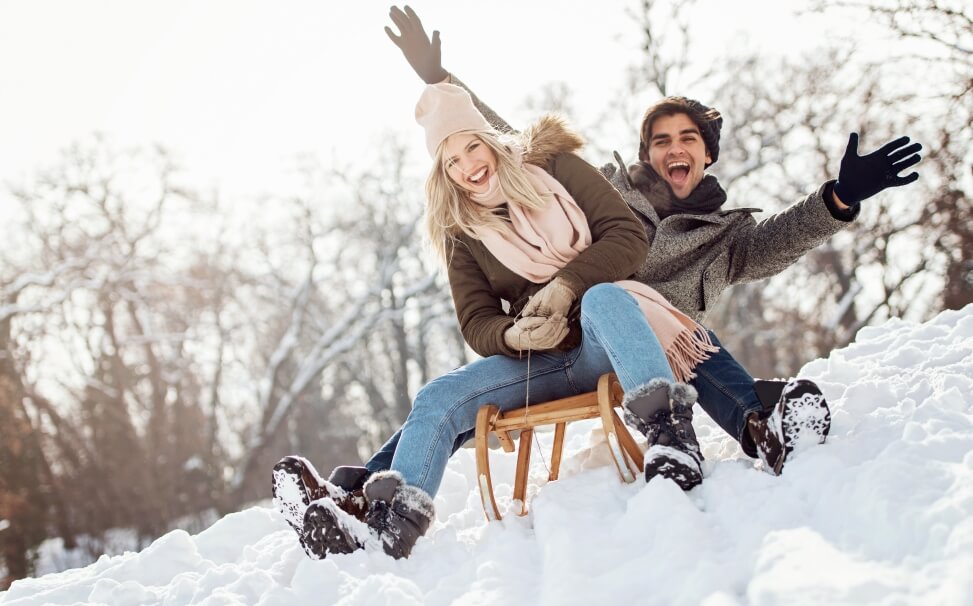 4. Take a Christmas light road trip to see the best displays in town
Looking at Christmas light decorations is a tradition for many families, but it's also a great activity for couples.
It's a great way to get out of the house and take in some holiday sights and sounds. And if you time it right, you can even catch a glimpse of Santa Claus!
5. Take a midnight stroll through town
Walking through your town at midnight on Christmas Eve can be a lot of fun! It's also an excellent opportunity to snuggle up close to your loved one to stay warm.
6. Play a Christmas movie drinking game
What's more fun than watching a Christmas movie? Watching a Christmas movie and playing a drinking game, of course! Just make sure you have plenty of snacks and drinks on hand.
7. People watch at a local Christmas market
People flock to their local Christmas market for gifts and festive cheer as the holidays approach. The market is always abuzz with activity, so take a seat and watch shoppers haggle with vendors over prices, and skaters fall over on the temporary ice rinks.
8. Go to an ice bar for some festive drinks
This is a great activity for couples or groups of friends. And, of course, it's always more fun to drink with someone else! So, if you're looking for a unique and festive activity, see if there's an ice bar near you this Christmas.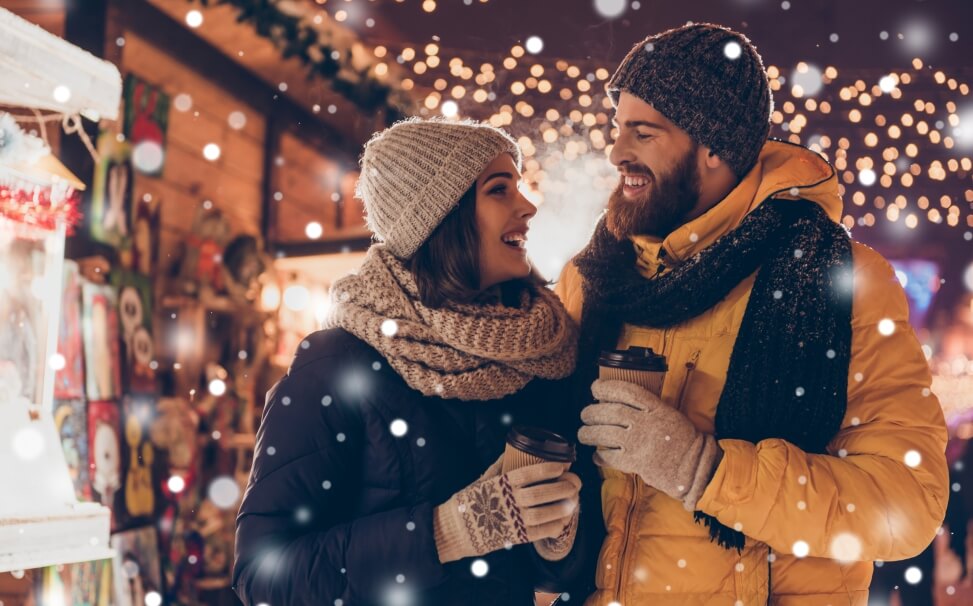 9. Host a Christmas games night with friends or family
Games night is always fun, but it's even more fun when you add a holiday twist.
There are tons of great holiday-themed games out there, from charades to trivia. with loaded snacks and drinks. So invite your friends and family for a festive evening of fun and games.
10. Make a Christmas bucket list & check items off as you complete them!
Start by brainstorming all of the things you'd like to do during the holidays. Is there a special dish you'd like to bake? A themed party you'd like to throw? A festive movie you've been wanting to see?
Once you've got your list, start checking items off as you complete them!
11. Get in the Christmas spirit with matching pyjamas!
Warm, cosy, and festive – what's not to love about Christmas pyjamas? And when they match, they're even better!
12. Take a goofy Christmas photo with your friends or family
Dress up in Christmas sweaters, put on some antlers, and strike a pose. And don't forget to take plenty of photos so you can look back on the memories for years to come.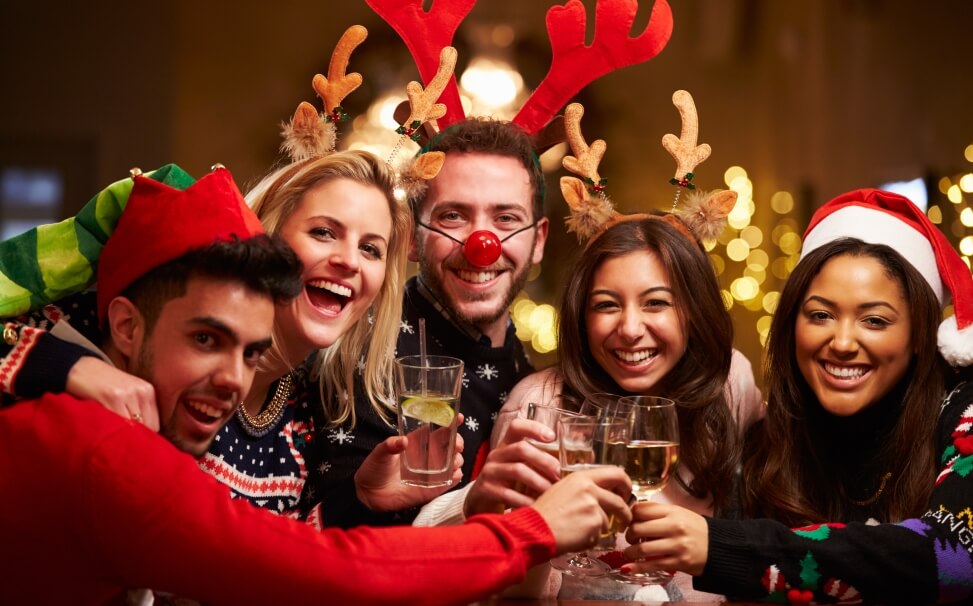 13. Have a snowball fight with your loved ones
This is a great activity for couples or families. Just make sure you're prepared with plenty of snowballs (and maybe some hot chocolate to warm up afterwards!).
14. Get creative with Elf on the Shelf and see what antics he gets up to this year
If you have kids, then Elf on the Shelf is probably already a big part of your Christmas tradition. But why not get in on the fun yourself?
Get creative and see what mischievous things your Elf can get up to this year. You can place him in silly situations, hide him around the house, or even put him in charge of the Christmas decorations.
15. Participate in a toy drive and help make Christmas memorable for less fortunate children
There are a lot of children who aren't as fortunate as others, and Christmas can be a tough time for them. But you can help make it special by participating in a toy drive.
One way to make your holiday giving more charitable is to adopt a child through a local nonprofit organisation. This can be done through organisations such as Toys for Tots, which provides gifts for needy children during the holiday season.
You can drop off new, unwrapped toys at a local collection point or even donate to a toy drive online. So give what you can and help make a difference this Christmas.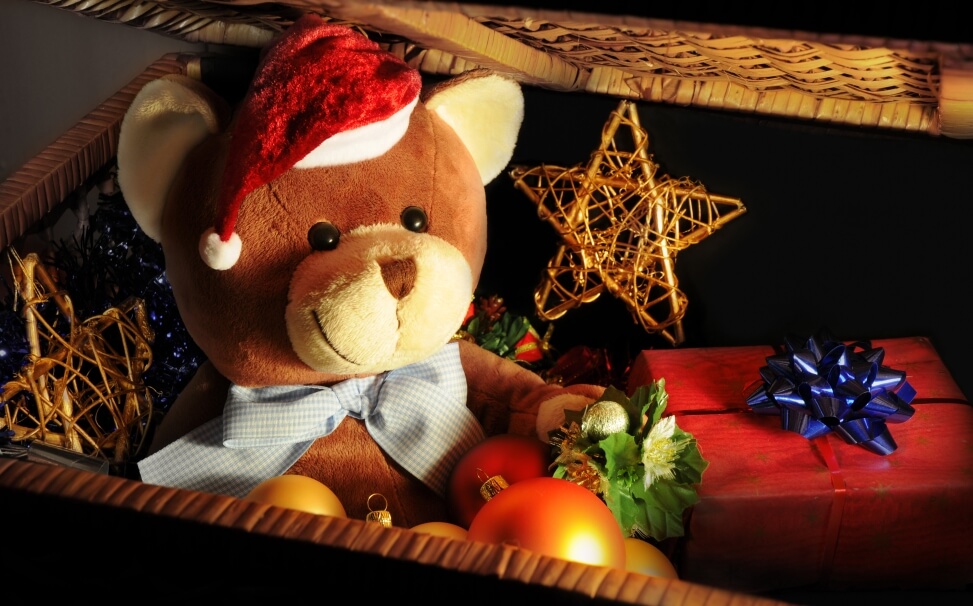 16. Take a virtual yoga class together to relax and prepare for the holiday season
The holidays can be a stressful time, so take some time to relax and de-stress with virtual yoga classes online, and many of them are free.
17. Turn your hallway into a festive bowling alley
This is an excellent activity for families with kids. Set up some pins at the end of your hallway, and bowl away!
18. Recreate your first date this Christmas and enjoy the memories all over again
For couples, this is a fun way to reminisce about the early days of your relationship. Just try to recreate your first date as closely as possible.
19. Commandeer the karaoke machine at your local bar
If you're feeling festive and have a group of friends with you, take over the karaoke machine at your local bar and sing your hearts out.
20. Volunteer at a local soup kitchen or shelter
Give back during the holiday season, whether serving food, preparing meals, or even lending a listening ear.
21. Get involved in a Secret Santa exchange with your friends or coworkers
This is a great way to spread some holiday cheer (and maybe get a few extra gifts in the process!). Make sure you set some rules beforehand, so everyone knows what to expect.
22. Organise a holiday-themed scavenger hunt for your friends or family
This is a great way to get everyone together and have some fun. Just come up with a list of things to find, and then let the scavenger hunt begin!
There are tons of great traditions that couples can enjoy on Christmas Eve. From watching festive movies to taking a walk to admire the Christmas lights, there's something for everyone. So get out there and start exploring all the holiday has to offer! Who knows, you may just find a new favourite tradition.