What do you buy the man who has everything for Christmas? At Find Me a Gift, we know that buying Christmas gifts for men can be a gargantuan task at the best of times, especially if you've already asked him what he might like and he's replied with ?oh, you really don't have to get me anything!? Luckily, our wide and varied range of great Christmas gifts for him will ensure he gets the perfect Christmas gift he never knew he needed.
Christmas gifts for men...even saying it is enough to make most people baulk at the task! Whilst it can be an overwhelming task- particularly when he always manages to get you something super special, let Find Me A Gift take the pressure off with our handy guide that makes buying mens Christmas gifts a doddle. He is bound to adore it as much as he does you.
Xmas may well be the only time when you are somehow obliged to buy him a gift, but that doesn't mean you should just get the first thing you find. The very best Christmas gifts show the thought, love and consideration you have put into choosing them. Men often say they'll be happy with 'whatever'. They don't mean it! Scope out the top christmas presents for men from our huge range and you are certain to find the perfect gifts right here at Find Me A Gift. From novelty ideas to fill out a stocking to keepsakes that will last a lifetime, if it's gifts for him you want, you are certainly in the right place.
Our Guide to Buying the Perfect Xmas Gift for Him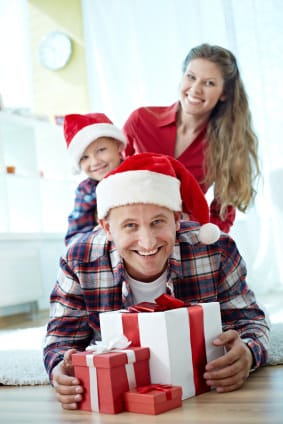 Be prepared - Plan well in advance to avoid the last minute Christmas rush and risk being without the best present possible.
Set yourself a budget - It's easy to get carried away with big ideas but it's not always possible, so set yourself a budget to make sure you don't overspend this year.
What interests the man in your life? - Forget being stuck for ideas, brainstorm his hobbies and interests as a starting point and see where you end up.
Have a browse for inspiration - All of our gifts are conveniently located, you never know what you might find!
Rule out the obvious - If it's something they really want, they're 95% likely to already own it. Have a nosy next time you're over or ask subtle questions to help you along.
Make it relevant - If he loves football, he won't necessarily appreciate a Grow-your-own Herb Garden, and vice versa.
Make it something they can use - Not you! Whilst activity days are made to enjoy with others, a lot of men's christmas presents you too would love might not go down so well. Consider their enjoyment and yours will follow.
Make it personal - Adding a personal message, photo or memory can transform your gift into something they will treasure forever. You can't beat it.
It's the little details - Now you've chosen the perfect present, but your wrapping is terrible? Never fear! We offer a gift wrapping service to make sure all your Christmas gifts for him looks just right.
Sit back and relax - Grab a glass of eggnog, you've done all the hard work. Feels good, doesn't it?
So there you have it - follow these meticulous steps and find perfect mens Xmas gifts... every time. Don't say we never gave you anything!