Present-buying for that special woman in your life can be tough during the festive season. Whether you're looking for that perfect gift for your Mum, wife, sister, Grandma or best friend, buying them something unique and memorable can certainly be a struggle. Luckily, our ladies Christmas gift ideas have everything you need and more to bring a smile to her face as she unwraps your gift on the 25th. Buying womens Christmas presents couldn't be easier this year, even for the most clueless among us!
If Christmas morning is fast approaching and you still haven't bought her a present then before rushing to the shops and panic buying any old gift (that she'll probably end up returning), keep calm and take a moment to catch your breath because you can buy everything you'll need right here from Find Me a Gift (and she'll probably prefer it). Our range of Christmas gifts for ladies is stacked full of interesting and exciting presents that are sure to put a smile on her face.
Buying Guide to the Perfect Christmas Gift for Her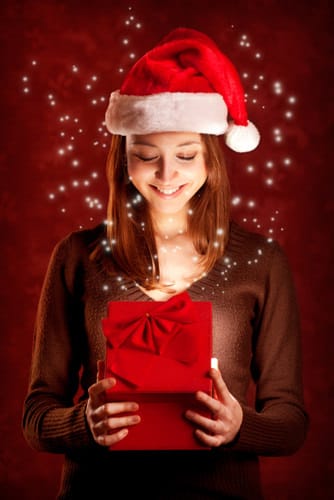 If you're still not sure if you can make it through this Christmas season intact, we've compiled a list of Do's and Don'ts when it comes to finding, buying and giving her a Christmas present she will love - seriously, there's no need to thank us.
DO make some subtle enquiries as to what she has her eye on. What is her favourite colour / animal / hobby? With great knowledge comes great power!
DON'T forget to employ a feminine perspective - whilst you might love something, your opinion doesn't count for much here.
DO put yourself in her shoes.
DON'T forget the details - a nicely wrapped present with ribbons and bows will take a great present to the next level.
DO find Xmas gifts for her that match her personality - if she likes baking and quiet nights in, she might not appreciate a weekend snowboarding.
DON'T go OTT when it comes to price. Ladies like the thought behind a present, not how much it cost.
DO personalise it - we have a wide and diverse range of gifts that you can personalise. It shows just how much thought has gone into this gift.
DON'T buy essentials for a present, socks might well be necessary but won't make her feel special. Unless they're personalised and suit her personality, of course.
DO remember to get a card - ladies like the little touches.
DON'T just give a gift-card, they can be limiting and are much less individual than a specially chosen Christmas present for her specifically.
That should just about cover it - and remember this can be applied to almost anyone you are buying Christmas presents for. Girlfriends, wives, mums, aunts, nieces, sisters...get them something above and beyond this year, they deserve it. Now all you need to do is sit back and relax...someone pass the mince pies, please.