Ever wondered how many medals each country has won in the summer Olympics? We've totted up a tally of each gold, silver and bronze won by each country that's ever participated in an Olympic Games since 1896.
However, when we saw the medal leaderboard, we started to think this wasn't really a fair way of measuring a country's sporting successes. Of course the USA's population of 320 million were going to have won more medals than the Bahamas, who only have a population of 388,000!
So with this in mind, we decided to divide each country's medal count by their total population, to create a more accurate score of each nation's athleticism. Interested in finding out which nations are the real winners and losers of the summer Olympic Games? View our interactive graph below to find out more.
How Have We Worked This Out?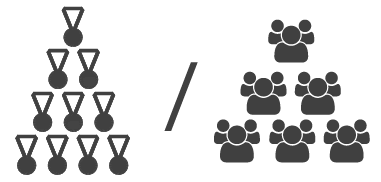 Real Champions = Total Medals Won / Population
In conclusion, it seems that Finland are the real champions of the summer Olympic Games, with the highest medal count compared to their population. Whilst they would have come 12th on an ordinary medal count table, it's important to note their athletic prowess next to their comparatively small population size. This seems to be a trend amongst Scandinavian countries, with Denmark and Norway both sneaking in to the top 10.
---